Description
Reiki is an energetic modality that can be done in person, or through a distance session.  Lizbeth is a Kundalini Reiki Master-Teacher and has been practicing Reiki for many years.  As an herbalist, she also creates custom herbal teas and flower essence blends for clients.  Reiki
Lizbeth will balance your body systems through a Reiki session, after which she will intuitively create a custom tea blend and flower essence – just for you – based on the information gathered during your Reiki session.
You don't even need to schedule a time!  As Reiki energy can cross time and space, allow Lizbeth to complete your session with the sacred intention of arriving when you are ready to receive it.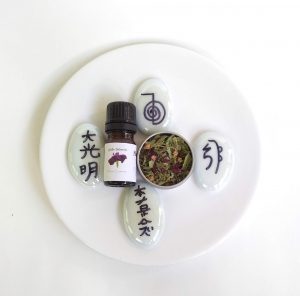 Your 30-minute session includes (in addition to the Reiki):
Custom loose herbal tea blend (1/2 oz, 3-5 cups of tea)
Custom flower essence blend (5mL, 6-7 days @4×4 dosage)
46 Flower Essences & Their Properties .pdf
Session summary emailed upon completion of the session (within 24 hours).
A hard copy of the session summary & information & instructions on the tea and flower essence (mailed within 3 days of session completion).
Disclaimers & Fine Print:
*No refunds will be given once the Reiki session has been completed.  If there is an issue with the herbal tea or flower essence, please contact us so we can work out a solution together.
Reiki, herbal tea, and flower essences are not meant to take the place of your doctor's advice.  Please make sure to consult with your doctor for any medical needs or questions.  Lizbeth does not diagnose, prevent, prescribe for, or cure any illness or disease. The information here is for educational purposes onlyand absolves Lizbeth of how people choose to use her products and services.
*Tea and flower essence containers may differ from photos. Reiki stones not included.
*The pdf file "46 Flower Essences and their Properties" is for personal use, only.  The material and copyright remain with the author (Lizbeth).
*By purchasing this listing, you acknowledge that you are at least 18 years old, and you are purchasing this item for your own personal use (and not for a 3rd party).