(Posting a bit early for the upcoming week, as I will be at the Midwest Herb Fest at the Glastonbury Institute for Sustainable Living, in Culver, Indiana.) 
All the changes and shifting energies over the last few weeks have brought us full circle and back into ourselves.
This week, find time to delve deeply inward, into the deepest part of yourself.
It is time to fully embrace your entire self, even the parts that you may find distasteful.  We can learn from them, and without them we wouldn't be who we are.
I keep hearing that the "Ho'oponopono" prayer will be particularly helpful this week, because it is all about acceptance, with compassion, but without guilt. Forgiveness and grace.
Be fearless.      Be love.
For this week's reading, I am using Alana Fairchild's Isis Oracle.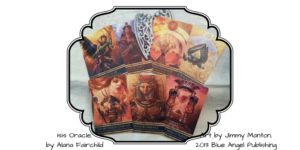 5 August – Sunday, The Brother in Darkness     We all have the power within us to make a difference. "Promote what you love instead of bashing what you hate." (Zig Ziglar)  When we can move past anger, we begin to move forward and heal. Compassion and grace will allow you to grow and progress.
6 August – Monday, Divine Sisterhood    What steps are you taking to help build your community? Now is the time to support, rather than tear down. We all need people who nurture us, and who allow us to help them in return.  Look around, who is in your inner circle? Celebrate them.
7 August – Tuesday, Past Life Present Power     Our past shapes our present. This is true about our past lives, as well. Now is the time to embrace what you have learned throughout time, and put it into practice to help you heal yourself in this lifetime, as well as pass this knowledge on to others.
8 August – Wednesday, Miracle of Isis     What is your intuition telling you? Are you being pushed outside your comfort zone? This is often where healing takes place, as we realize how stagnant and confining our lives have been. Old energy is being shifted, you are supported, loved, and protected.
9 August – Thursday, The Lunar Queen     I know it is hard, but you need to trust your path, trust the changes happening right now. Take time to nurture yourself, and release the idea that you have to do it all on your own. Call on your inner circle, gather and nurture each other.
10 August – Friday, Abundance of Sothis     All of your hard work this week is being rewarded. Expect a miracle today – though it may not be something you thought you needed/wanted. Share the joy with others, and see it expand to fill your whole being. Be inspired.
11 August – Saturday, Temple of Black Obsidian    It is time to go inward, into the darkest part of your being. There is nothing to fear, there is only love, compassion, and ultimately – transformation. In order to move ahead, we need to embrace every aspect of ourselves, with no exceptions. Love, without judgment, acceptance without fear.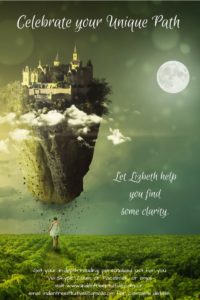 Daily Cards, Mindful Mandalas, & Inspirational Messages are posted daily on my Facebook, Instagram, & Twitter pages, so remember to like & follow!
If you'd like to get a personal reading from me, visit my Angels & Energy page!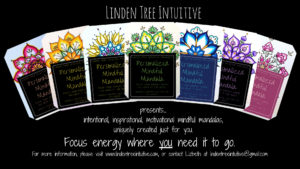 If you'd like to get a Personalized Mindful Mandala created just for you, email Lizbeth directly:  lindentreeintuitive@gmail.com
Affiliate disclaimer:
"We are a participant in the Amazon Services LLC Associates Program, an affiliate advertising program designed to provide a means for us to earn fees by linking to Amazon.com and affiliated sites."