There are times when the power of Mother Earth, and all she truly is completely bowls me over. Today is one of those times.
As we are winding down toward winter, the days are getting shorter, colder, and sleepier. The leaves are changing, giving us one last brilliant glimpse of color. And then… release. This can be quick, in the matter of a few short weeks, or it can take more than two months.
Mother Earth reminds us that…
We can all change, and be beautiful doing it.
Releasing our burdens is necessary.
Finding time to rest, relax, and renew ourselves is a must.
While things may appear cold on the surface, there is healing and growth happening underneath it all.
De-clutter EVERYthing. Physical and energetic.
Love yourself.
When you think of it, send out some gratitude to Spirit, your angels, guides, and other helpers who are constantly with you.
For me this past week has been filled with dragons, unicorns, and owls.  I have been dreaming of them, and seeing them everywhere I turn. Synchronicities and signs to pay attention to.
What are you seeing everywhere?
For this week's reading, I am using Denise Linn's Native Spirit Oracle Cards.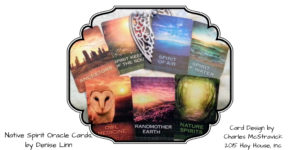 28 Month – Sunday, Owl Medicine     Sometimes truth appears silently, surprising us with it swiftness and power. There is wisdom in paying attention, especially if you've been asking for answers. Welcome the understanding and clarity that the owl brings.
29 October – Monday, Grandmother Earth    Today is about slowing down and being in the moment. Follow nature's example, and allow things to grow naturally. Nurture what you wish to grow, prune back what hinders you. Balance the elements within yourself, and watch miracles appear.
30 October – Tuesday, Nature Spirits     So much in nature happens beneath the surface, and your transformation is no different. You are not alone, dear one, you are cherished, and have many unseen helpers. They are guiding you, and helping you make the changes you've been longing for.
31 October – Wednesday, Ancestors     Your prayers have been heard. Spirit has things in motion for you. Meditate, pray, call on those who would help you.  And listen. In the silence you will hear the answers.
1 November – Thursday, Spirit Keeper of the South     Though you may feel you're standing still, a lot is happening today. Expect a message that brings good news, and feel the release of worry. It is an encouraging day, one that reminds us who we are.
2 November – Friday, Spirit of Air     To bring change more quickly, clear the clutter.  Clear it from your home, workspace, and especially your mind. Do this in small bits, but be a force of nature, clearing away debris swiftly and energetically.
3 November – Saturday, Spirit of Water     Stop second-guessing yourself! And stop hiding who you are. You are a brilliant, amazingly wonderful being. Embrace those emotions, shine, let the full force of your "I AM" flow. Love who you are, in all your glory.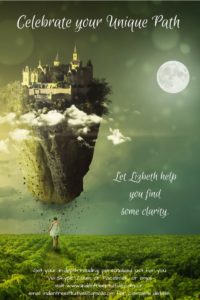 Daily Cards, Mindful Mandalas, & Inspirational Messages are posted daily on my Facebook, Instagram, & Twitter pages, so remember to like & follow!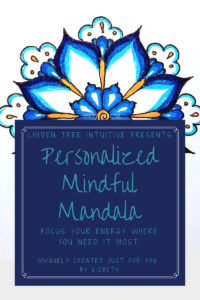 If you'd like to get a Personal Reading, Reiki session, or Personalized Mindful Mandala from me, visit my Angels & Energy page!