I don't know about you, but I have been feeling like I've been in a constant battle over the last year, and have watched the landscape of my life become nearly unrecognizable.
What helped me was finding my voice, speaking up, and refusing to be a doormat.
This is not always an easy task, especially when speaking up to someone I admire; and even more difficult when they had no idea that they were being hurtful.
Much of what we need to work on this week has to do with standing up and speaking out. Our words need to be chosen carefully when we do this, as they can either build up or tear down.
Choose to build others up – even if you are speaking out against an injustice. Our words have power.
Words can be a catalyst for change.
And change often means delving deep into the darkest parts of ourselves, without judgment, and with much compassion.
Look around you at your community, both local and worldwide. This chaos we see coming to the surface is a reflection of what is inside each of us.
This is what we must heal. How will you speak up for those who have no voice?  How will you speak up for yourself?
"When they go low, we go high." Wise words from Michelle Obama.
Listen. Learn. Teach.
For this week's reading, I am using Stacey Demarco's The Gospel of Aradia.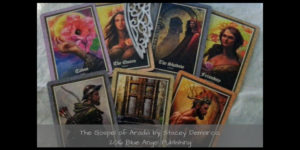 8 July – Sunday, Fight (Pugna)     What is most important to you? It's time to choose your battles wisely, as sometimes to win the war we have to lose a battle. Use your words wisely, as well. Change must happen, lead the way with your wisdom.
9 July – Monday, Hierarchy (Ordo)    "Justice requires change." We need to decide where we stand, and step up. Again, words can be a powerful tool, as long as they are well-chosen and utilized. Use what you have to stand up for those unable to do so for themselves.
10 July – Tuesday, The Masculine (Mas Numen)     We all embody both the Divine Masculine and Divine Feminine.  The trick is to find the balance within ourselves, and to understand when the proper time for strength is, as well as when compassion and gentleness are more important. Meditate, breathe, balance.
11 July – Wednesday, Taboo (Nefas)     The power of words is so important to remember this week. This includes when standing firm on an idea or principle, whether for ourselves or someone else. Today is a day for advocacy. Who or what are you advocating for? Your words are powerful. People listen.
12 July – Thursday, Queen (Regina)     Step up and into your power. Remember you are ready for the challenges this brings.  You know what you want to accomplish, and you do not have to compromise in order to have it. Listen to that inner voice, and remember the power within.
13 July – Friday, The Shadow (Umbra)     Change cannot happen without embracing the shadow within. Learn and gain strength from your dark side. It is there to balance the light. You wouldn't be who you are without both sides. Love all of you, including the shadow. Learn, and gain wisdom.
14 July – Saturday, Fecundity (Fecunditas)     All of your hard work is beginning to show progress in all areas of your life. Abundance is our right, not just something for a few. You need to believe it is a right, don't question it, or you may block the miracles coming to you.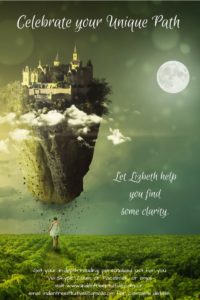 Daily Cards, Mindful Mandalas, & Inspirational Messages are posted daily on my Facebook, Instagram, & Twitter pages, so remember to like & follow!
If you'd like to get a personal reading from me, visit my Angels & Energy page!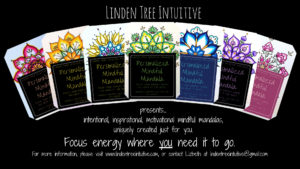 If you're interested in a Personalized Mindful Mandala, created uniquely for you, please contact Lizbeth at: lindentreeintuitive@gmail.com.
Affiliate disclaimer:
"We are a participant in the Amazon Services LLC Associates Program; an affiliate advertising program designed to provide a means for us to earn fees by linking to Amazon.com and affiliated sites."