If you're like me, winter is hard because it's harder to get out into nature.  Yes, it's still outside that front door, just a bit frozen and sometimes under a blanket of snow.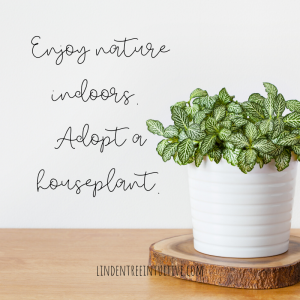 Being able to enjoy a bit of green nature indoors during the winter months has many benefits and is not difficult to do.  For me, having plants inside keeps me connected and grounded. I love to get my hands into the dirt and let my worries fade away.
Did you know dirt contains microbes that can help us release endorphins? Working with dirt can also help improve our immune systems by exposing us to different things.  Additionally, growing plants can help us improve our mood, through the splashes of color the plants provide, as well as the increased oxygen levels in the home.
Caring for plants can be a wonderfully meditative process, too.  Giving us time to be quietly introspective.  Plants are also great listeners (and secret-keepers)!  Just saying…
Because I have cats, I make sure all my plants are cat-safe, in case they decide to "prune" them for me.
Bringing nature inside is easier than you might think. Let's look at 5 different ways you can enjoy nature inside during the winter months: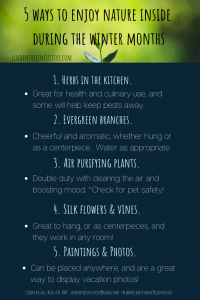 Herbs in the kitchen

. You can place herbs on the windowsill or hang them.  They don't need to be large and cooking them can have health benefits aside from delicious flavoring.  There are also herbs that can help keep pests away.

Evergreen branches

. These aromatic additions can add a splash of color, as well.  Whether you choose to hang them or create a centerpiece from them, they lift the spirits and scent the air beautifully.  Centerpieces can last a long time if you keep them watered.  You can even consider a living Christmas tree that can be planted outside in the spring.

Air purifying plants

. All plants will help with air quality, so filling your house with them is a win-win, especially in the winter months when our homes are more closed up due to weather.  Boston ferns, philodendrons, snake plants, and peace plants are among the plants that are especially good at improving air quality.

Silk flowers & vines

. While not alive, these can bring splashes of color and vibrancy to a room. These are especially good if you don't have the time or inclination to care for real plants.  Silk flowers are also cleanable and don't collect as much dust as dried flowers.

Paintings & photos

. These can be placed anywhere in the home, adding color and ambiance.  You can choose a vacation photo or simply go with a wallpaper design. No matter what you choose, it helps open up the atmosphere during the winter months.
Some great kitchen plants include oregano, marjoram, thyme, rosemary, and aloe.  Air purifying plants include ferns and vines, among others.  Here's where you can check for pet-safe plants.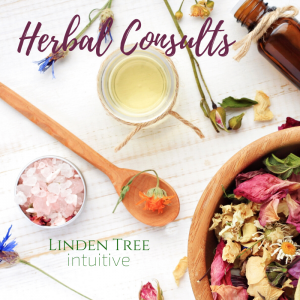 If you'd like to learn more about herbs for health, let's connect.  I offer a free 15-minute herbal insight consultation.
Disclaimer:  Linden Tree Intuitive would like to remind you to consult with your doctor for all things medical.  We do not diagnose, treat, prevent, or cure any illness or disease.  All material in this blog is for informational purposes only, and you are encouraged to do your own research and question everything!