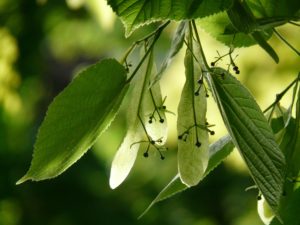 HERB NAME:  Linden Blossom (Tilia spp) is a tree that can be found all around the world, and will vary in height, as well as have some distinct variations in leaf and flower.  It is also a tree with many uses, with virtually the entire tree being useable for food, shelter, and even clothing. [3]
COMMON NAME:  Linden blossom is often called Lime tree (no relation to the lime fruit), or basswood.
THERAPEUTIC QUALITIES & USES:  Linden blossom is one of the few herbs out there that has virtually no contraindications and is beneficial for people of all ages and states of health.  This herb has multiple uses, all of which support and relax the body, from emotionally to both the cardiovascular and nervous systems.  It can be combined with other herbs to increase efficacy.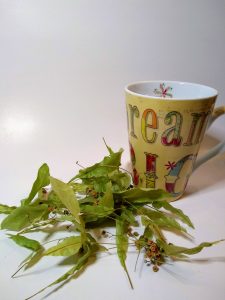 Linden blossom is:
Antianxiety – In TCM, it is said to help relax & move the qi. [1]
Cardiovascular – Helpful for heart health. [2]
Demulcent – Is soothing to the gastrointestinal tract.
Diaphoretic – Helps to make fevers more productive.
Hypotensive – May be helpful with high blood pressure [2]
Nervine – Relaxes tension and supports the nervous system.
Sedative – Calms the body and mind, helpful with insomnia. [2]
SYMBOLISM: The Linden tree has a varied and rich history, stemming from ancient times.
Across many cultures, the Linden tree symbolizes truth and justice, with agreements and pacts being ratified under the branches. For this, and other reasons, Linden is considered to be sacred.
In the Middle Ages, it was considered a tree of miracles and healing, as well as luck. [5] Linden trees were often planted near chapels or other places dedicated to Mary.
Linden trees became important to beekeepers, as they bloom abundantly and the honey from linden flowers is said to be very distinctive and healing. [3]
Love and fidelity in relationships is another theme associated with the Linden tree. This is both romantic and platonic; and can produce deep healing of emotional issues.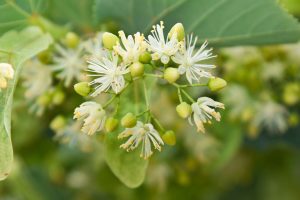 SPIRITUAL CONNECTIONS:
This tree is associated with the goddesses Aphrodite, Venus, and Freya, and with the gods Odin, and Tyr. [4]  There are also indications of a relationship to the Tree of Life in Celtic lore.
One of my favorite associations is with Mother Mary. In Eastern Europe there are tales of Mary appearing to children playing under a Linden tree.  [5]
Astrologically, the Linden tree is associated with the planets Jupiter, Mercury, and the Sun, and with the astrological signs of Gemini, Sagittarius, and Taurus. [6]
Personally, I have experienced healing with the Archangel Chamuel in connection with the Linden tree. This archangel helps with healing anxiety and fear.
The Linden tree symbolizes healing through love, understanding, and honesty. This tree encourages you to follow your heart and leave behind trauma and doubt.  It is about life, death, rebirth, and transformation.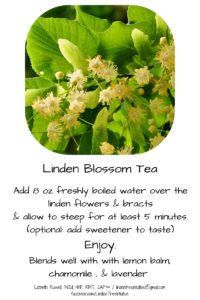 HOW TO USE
Linden blossom tea can be enjoyed hot or cold. You can use it solo, or blend it with other herbs.  My personal favorites are to blend Linden with hibiscus (Hibiscus sabdariffa) or lavender (Lavandula angustifolia). I use hibiscus when I need that extra boost of vitamin C, and lavender when I'm looking to relax.  You can download my infographic on Linden blossom here.
Other herbs that blend well with Linden blossom are…
Green tea (Camellia sinensis) – for some extra energy and antioxidants
Hawthorn (Crataegus monogyna / C. laevigata) – for some extra heart-health support
Lemon balm (Melissa officinalis) – for times with high stress
Chamomile (Matricaria chamomilla) – for better quality relaxation and sleep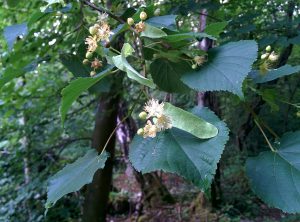 Here are 10 different varieties of Linden trees (and that's only the tip of the iceberg!):
Linden blossom, helping people live better lives since before the Roman Empire!
References:
Disclaimer:  All information in this article is for informational purposes only.  No medical claims are being made.  If you have any medical questions, please consult with your primary licensed healthcare provider.  Linden Tree Intuitive and its associates cannot diagnose, prevent, treat, or cure any medical conditions.