Messages from the Linden Tree, for October 2022
We are now entering the last quarter of 2022, which embodies discernment, self-care, and going within to finish the transformation.  The coming changes may not be as obvious as you might expect, however, they will be profound.
Breathe.  Breathe deeply, all the way to your toes.
Relax.  Relax your body, mind, and spirit.
Believe.  Believe in your path, in your strength, and in your purpose.
It may feel like the chaos is winning, but deep down, it is simply shaking up what needs to be balanced.  Like a storm brewing, the energy is building.  When the storm hits, you will be ready.
Ground yourself, be confident and draw on your inner strength.  As the storm hits, you will use its energy to propel yourself forward.  And in doing so, you will be encouraging others to do the same.
Don't fear what's coming. This change will be a relief, a blessing – and no, you won't have to look for the "silver lining" because you understand the why, it is what you manifested to help clear away the old.  It is needed change.  You can't stay where you are anymore.  And neither can the world.
Everything will change if you allow it.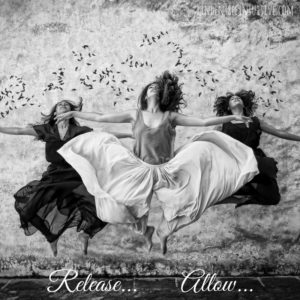 How can you support yourself during this time? 
Rest – sleep, relaxing activities, carefully choose your social media time and/or social outings.
Breathe – especially slow, deep breathing.
Nurture – eat as healthy as possible, drink more water and less caffeine/alcohol, stay connected with your inner circle of family and/or friends.
Remember – this is a transition, it is not permanent, and you are allowed to be human.
Self-love will be important during this transitional time, so if this is a challenge for you, make it a priority to work on.  Small steps, as I always say, are good things.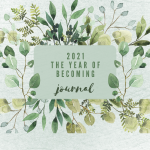 You might find the 2022 "Year of Becoming" companion journal helpful.  Download the journal here, for free.
For October, I am continuing with the Elle Qui Oracle by Arwen Lynch-Poe, and artwork by Mélanie Delon.    
From the Year Ahead Reading in January, here is October's overview: Breathe. Relax. So much transformation has brought in some wonderful rewards. It's okay to step back and breathe for a moment. Take some time out to nurture yourself. Better yet, find a way to fit some daily self-care into your routine. Allow others to help, as well.  Accepting help or nurturing isn't always easy, but it is sometimes necessary.  Continue with the work you've been doing, just make sure to rest, as well.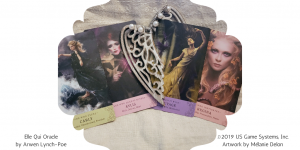 Oct 1-8, Carly     Liberation, Unrestrained, Freedom.     You are as free as you wish to be.  The only thing holding you back is your fear and self-imposed limitations.  Follow your intuition, listen to your heart, but also use some logic.  Look beyond the surface to find your freedom.  True liberation is a state of being that is body, mind, and spirit together.
Oct 9-15, Aylis       Wish, Desires, Hope.    Pay attention to what makes your heart sing.  What you wish for is within your reach.  Dream it, feel into it, believe it.  Use journaling and meditation to help you get very clear on what you wish to manifest.  Once you are crystal clear, take steps to help it along. Conceive, Believe, Achieve.
Oct 16-21, Sauvage     Untamed, Wild, Mysterious.        Use your talents to your advantage. Now is not the time to hold back.  Instead, take one of your ideas and see where it can take you.  Even raw, untamed ideas can lead to an amazing adventure. You simply need to awaken your dreams and step into them.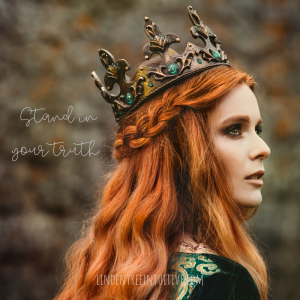 Oct 23-31, Regina     Leadership, Provocation, Power.              Don't back down now.  You have set an adventure in motion, now embrace it.  Set healthy boundaries for yourself, make a plan, and instigate it.  Own your power, own your adventure.
Have faith in yourself.  You do have the strength within you to flow with changes and transitions. Ups and downs are normal, natural, and not to be feared.  Remember to ask for support when you need it.  Celebrate the small victories and accomplishments, even if no one else around you does.
Celebrate yourself – the work you are doing, and the changes you are making, will have an impact across time, space, realities, and realms.  The ripples you are sending out will help others initiate and complete their own needed changes.
You are starting a chain reaction to help lift the world up.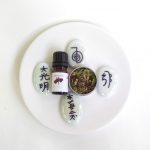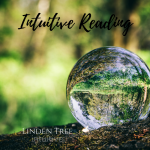 If you'd like some guidance with finding answers, I invite you to book a reading with me.  If you are in need of relaxation, book a Reiki session!  Both can be done in person (if you're local), or via Zoom, if you're not.  Let me help you bring a sense of well-being and comfort. You can book a session here.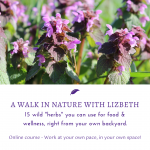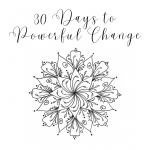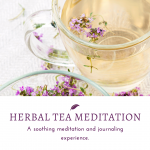 Are you interested in using meditation to help you get through life's challenges?  Would you like to learn more about plants that can boost your nutrition and wellness?  Have you wondered if 30 days of positive change can truly make a difference in your life?  I invite you to check out Lizbeth's Botanical Academy on Teachable!  This is where I have my meditation, herb, and wellness workshops & classes.  Why not have a look & see if something interests you?