Messages from the Linden Tree, for February 2020.
Let's recap what February has in store for us:
Ask yourself :
What calls to you?
What would you be doing if nothing held you back?
Who is holding you back?
Take an in-depth look:
Evaluate where you are
Make a list of what you want/want to do
Make a list of what you can already do
Action steps:
What one thing can you do today that is aligned with your path?
What one thing can you do this month to keep you going?
What is one thing you can do daily to help encourage you?
Now… get out there & do it!
Here are the weekly cards for February, featuring Denise Linn's Sacred Traveler Oracle cards: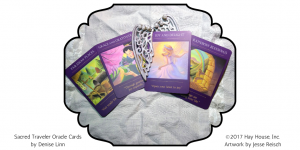 Week of the 2nd     Faraway Places     *This week the energy is shifting, and you will have more energy.  Use it to move ahead with planning and/or actual action (or both!).  There is also new information coming to light for you, which may mean a change in perspective – or direction!  Honor your feelings, make needed changes, and get ready for an adventure!
Week of the 9th      Grace and Gratitude      *Change can sometimes bring up frustration and anger, in others as well as ourselves. Accept change with grace, because sometimes it comes when we need it most, even if is it unexpected and unwanted. Be grateful for opportunities and remember that gratitude sometimes appears after we've done a bit of teeth gnashing. Allow yourself to have the human moment, too!
Week of the 16th   Joy and Delight       *As we embrace change, tweak our action steps, and work through the emotional rollercoaster that sometimes comes with this change, you will find your heart having moments of overwhelming joy and happiness. Enjoy these moments, savor them. As you become more fully aligned, you will find it happens more and more often. Go with it.
 Week of the 23rd   Rainbow Blessings      *As February winds down, it feels like a sunset on a perfect day in the summertime, with a beautiful breeze gently whisking away your cares and troubles. The colors sing to your soul and you are in joyful peace. Your life has shifted, you have "leveled up", and earned a rest. Feel the contentment in your heart and soul.  Look around you and imagine where you will be in another three months. ♥
If you'd like to get a personal intuitive reading with me, pop on over to the services page & see what resonates with you.