For a while now, we've been hearing about the importance of eating fruits & vegetables by their color.  Why?  Well, simply put, each color offers different nutritional value, with the vitamins, minerals, and all sorts of plant goodness. [1] By having something of each color daily, you can make sure you're getting a well-rounded variety of healthy goodness. Furthermore, eating these phytonutrients from their source can be a healthier (and more easily obtained) option than using supplements.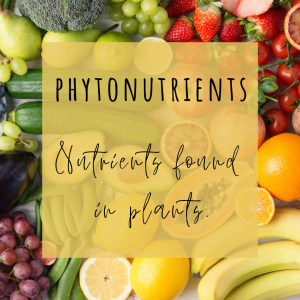 Why is well-rounded nutrition important?
Good nutrition helps us stay healthy and is a natural way to boost our immune system. And the really great thing is that even small changes in our eating habits can have a huge impact on our health.
Let me say that again:  Even small changes can have a huge impact. 
Look around for options, and tailor them to your needs and circumstances.  Start small and do more as you are able to.  The important thing is that you are doing something!
Let's explore what each of the colors brings to the table.
Red – Think tomatoes, cherries, strawberries, raspberries, cranberries, watermelon, pomegranate, etc. These foods contain benefits such as lycopene, ellagic acid, and often vitamin C, all of which have antioxidant benefits. [2]  They are known for heart health, and even prostate health. [1]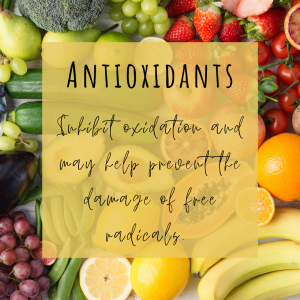 Orange & Yellow – These would be your carrots, bananas, pineapples, pumpkin, yellow- & orange-fleshed squashes, lemons, apricots, and many more.  Again, These fruits and veggies are full of antioxidant goodness, and, like the red, may help in fighting heart disease, too. [2]  These are also full of beta-carotene, which is not only an anti-oxidant, it can be helpful for eye health. [4]
Green – Lettuce, broccoli, kale, mizuna, avocado, beans, kiwi fruit, cucumbers, green tea, mint, and herbs such as basil, sage, rosemary, and thyme. [3] These foods have the benefit of lutein, vitamin K, and folate. [1] The leafy greens are also essential in helping you keep your bodily functions working well (e.g. they can help prevent constipation).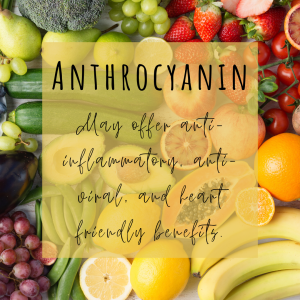 Blue & Purple – This group includes currants, elderberries, blueberries, blackberries, eggplant, figs, radicchio, red onions, grapes, plums, etc. This group is full of anthocyanins which are beneficial for their anti-inflammatory and anti-viral properties. [5] This phytochemical may also be helpful with blood pressure and heart health. [4]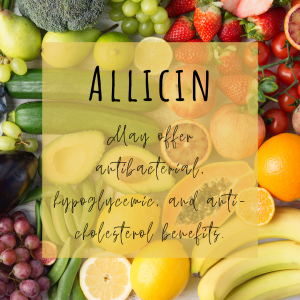 White & Brown – While technically not part of the "rainbow" of colors, fruits and veggies that are white and brown also have benefits. This includes things like garlic and onions contain allicin, which has long been understood to be beneficial for all-over health support, including the immune and circulatory systems, including having potential benefits for blood pressure and cholesterol. [6]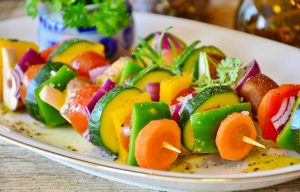 Endeavor to have some fruit or vegetables from each color group every day.  You can find a great list created by heart.org right here) Pay attention to the changes it brings, because although they may be subtle, they are creating and reinforcing the support your body needs to be healthy.  And healthy is what we should strive for.  Not perfection, not a certain weight, no.  Work to be as healthy an individual as you can be.
Eat the rainbow.  Your body will thank you.
You can find my Herbal snapshots, Mindful Mandalas, and Inspirational Messages on my Facebook, Instagram, & Twitter pages, so remember to like & follow!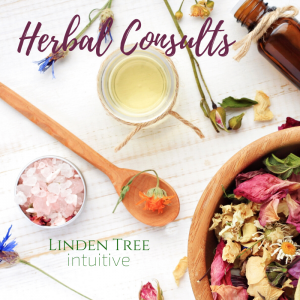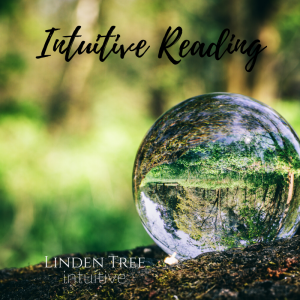 Click here, If you'd like to get a personal consult, I offer a 15-minute free consultation to see if working together would benefit both of us.
To book a Reiki session or Intuitive Reading from me, click here.
Resources:
Disclaimer:  Linden Tree Intuitive would like to remind you to consult with your doctor for all things medical.  We do not diagnose, treat, prevent, or cure any illness or disease.  All material in this blog is for informational purposes only, and you are encouraged to do your own research and question everything!