Manifesting (verb) – Bringing something to reality through intention and action.
While that's not the dictionary definition, it is essentially what is meant when people talk about "manifesting."  It is the ability to create desired situations and opportunities. Manifesting encompasses both material and emotional desires.
What is the trick to manifesting?  Truthfully, there is no single trick to doing this. We are each different, so our approaches will be unique to us.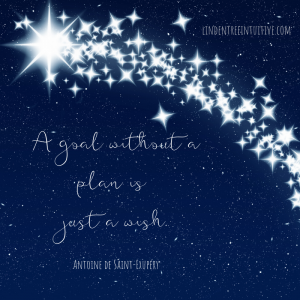 The most important factor with manifesting is action. You can visualize till the cows come home, but if you're not actively doing something to get you closer to your goal, it's nothing more than daydreaming.
Also important to consider is narrowing your desires to one specific thing you wish to focus on.  Trying to manifest multiple things at once can end up with you getting watered-down versions of your desires, instead of what you truly want.
Daydreaming is a great starting point.  From there move on to planning, and then…to action! Remember: "A goal without a plan is just a wish." (Antoine de Saint-Exupéry)
Below, I outline 5 different manifestation techniques you can use easily and frequently.  Each can be a stand-alone method or done as part of a manifesting ritual over time.  They are given in the order I, personally, would do them, although you can choose to do them in whichever order calls to you.
MEDITATION 
Pick a quiet spot and time when you won't be interrupted.  Play some gentle music, or even a guided meditation to help you focus on getting clear about what you wish to manifest. Use this time to narrow down and focus on your main desire.
VISUALIZATION 
This is where daydreaming comes into play. Use your imagination to see the life you are creating. In your mind's eye, see this life as if you already live it.  Combine visualization with meditation for a stronger effect.  One of my favorites is the "Affirmation, Appreciation, Application" meditation.
AFFIRMATIONS  
These can be used to help lift your spirits or focus your intentions. They can also be used during meditation to increase the energy you are putting into manifesting. The trick here is to hone your affirmation to a simple, straight-forward sentence that is easy to remember and say. No fancy wordsmithing here.  Keep it simple, sweetheart!
JOURNALING

 
With this technique, you can write your affirmations over and over, as well as plan out what you wish to attain.  You can explore the pros & cons of your wishes, plan the steps you need to take, and note your strengths and areas of growth.  There is so much you will discover by journaling that I consider it a necessary component of manifesting.
VISION BOARD

 
Now that you have your thoughts in place, you have some action steps planned, how will you keep all of this fresh in your mind?  Create a vision board!  This can be done by hand or electronically, and all you need are images and words illustrating the vision you wish to manifest and place them on the "board."  Keep it where you can see it frequently to remind you what you are working for.
Remember to put thought into what you wish to manifest.  Don't limit your dreams but do understand that manifesting requires thought and action together.  Sometimes manifesting our dream life happens in stages.  This doesn't mean failure; it simply is the way manifestation works.
How to manifest faster? You may have some inner work you need to do before you are in alignment with your wishes, and inner work is best done in layers, over time.  As you "level up", you also bring into your life more of what you want.
Shadow-work is not to be feared or ignored.
Healing your inner self will allow you to manifest more quickly and profoundly.
Trying to figure this whole "wellness" thing out, but can't seem to find the answers you need?  Do you feel like no one's listening, and that the mainstream methods just don't work for you? Why not check out what I offer, and if it resonates, schedule your free 15-minute consultation (herbal & wellness only).  You can also schedule your Reiki or Intuitive Reading session. Together we can help you get on the path to wellness and create an oasis of self-care on your journey to self-love.
Disclaimer:  Linden Tree Intuitive would like to remind you to consult with your doctor for all things medical.  We do not diagnose, treat, prevent, or cure any illness or disease.  All material in this blog is for informational purposes only, and you are encouraged to do your own research and question everything!