In 2013, I made one of the biggest decisions in my life.  I left a secure job of 24 years in education. This decision was not made lightly. However, five years later, even with all the ups and downs, I feel it was the right decision.
This decision also came with lots of stress. 
I learned to meditate, made lifestyle changes with diet, exercise, and became an herbalist, wellness coach and Reiki Master.
Somewhere in all the chaos of change, I learned about using mandalas as a focus for meditation. Learning about the history and culture of these amazing designs resonated with me, and encouraged me to rekindle my love of drawing with a meditative process that allowed me to focus my energy where I needed it to go.
I spent time watching YouTube videos on mandala-inspired art. One of the first that inspired me was María Mercedes Trujillo A., an artist in New Zealand.  In her video she demonstrates painting a mandala on a stone(watch it here!).
My other favorite is B.C. artist Elspeth McLean, who paints mandalas in pointillism (here is a montage of her painting.) I was lucky enough to get a trio of her painted stones from her Etsy shop, which I often use when meditating.
But what did this mean for me, personally? 
I started drawing mandalas as a form of stress relief. As someone with severe ADHD, it was also a way to focus my mind and be in the present. This became a meditative tool I would use to feel grounded, centered, and calm.
This practice has gotten me through some of the most stressful times in my life, both in business, as well as at home.
I coined the hashtag #100mindfulmandalas when participating in the #100DayProject.  When the 100 days had finished, I continued on, and will do so until I reach 1000.  As of today, I am at 794.  The mandalas I draw daily come with a mindful phrase that can be used for reflection or meditation.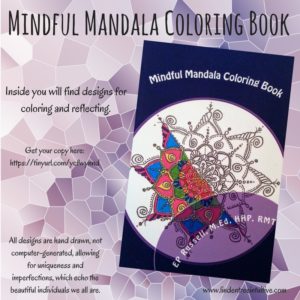 While participating in the 100 Day Project, I also created a coloring book, and two planners (2017 & 2018).  The coloring book is available on Amazon (here).
In the past, I have offered unique, personalized Mindful Mandalas to clients, but stopped when I left my brick & mortar shop.  These designs were created for clients, and not shared publicly.
After many requests, I have decided to offer these Personalized Mindful Mandalas once again.
Through the end of July, 2018, I am offering these Personalized Mindful Mandalas at the introductory price of $15.00 US.  In August, these prices will go up.
The client receives:
A one of a kind, original Mindful Mandala design (approx. 5"x7") completed on archival (acid & lignin free) card stock, suitable for framing. The design is completed in archival pens and colors.  Additionally, the client will receive 2 digital copies of the design: one in the original black and white, and one with color. The design is created for each individual client, and will not be used in its entirety for any other purpose other than archival. Please note: a portion of designs may be shared as examples, but not the full design.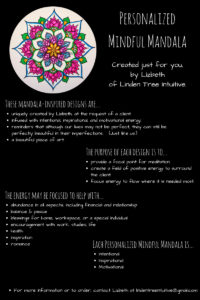 For local folks, I even offer "Meditating with Mandalas" – a mindfulness workshop, where we delve into the history of Mandalas, the different cultures where they are found, and how to create your very own mindful Mandala through a meditative process.
If you are interested in having me create a unique Mindful Mandala just for you, or you are interested in scheduling a workshop, please contact me at lindentreeintuitive@gmail.com.  Payments through the end of July, 2018 can be made to: paypal.me/LizbethsBotanicals/15  (Lizbeth's Botanicals is the original "branch" of Linden Tree Intuitive).
Affiliate disclaimer:
"We are a participant in the Amazon Services LLC Associates Program, an affiliate advertising program designed to provide a means for us to earn fees by linking to Amazon.com and affiliated sites."